In 1982, it was decided by the deans of Higher Education (HBO-onderwijs) and the University Health Services (Universitaire Gezondheidsdienst ) to start an institution for psychological support for students following higher education. Two clinical psychologists and two social workers were involved in the initial setup. This resulted in the formation of the Foundation for Support of Students in Higher Education (Stichting Hulpverlening Studenten Beroeps-Onderwijs) in 1983.
Right from the start a great variation was offered in the types of assistance. Next to the individual psychotherapy and the study therapy there were also courses and lectures. The Foundation commissioned the production of a short movie that showed a number of aspects and dilemmas that students have to deal with. Many of the dilemmas are still the same, but the images have become outdated. Together with the division for Prevention of the University Health Service an informative booklet on health was released.
We have been housed in various places in the centre of Groningen, amongst others on Kraneweg, on the corner of Melkweg.
When in 1987 the organization changed from foundation to partnership we named it after this location: Praktijk Hoek Melkweg.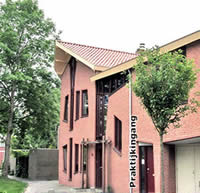 Since 2006 we are located in 'Villa Andromeda' on Agricolastraat.